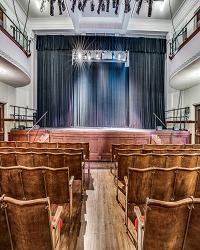 Charles Dickens' A Christmas Carol
When
Runs from Friday November 24 2017 to Saturday December 16 2017
Approximate running time: 1 hour
Venue
Performance Notes
×
Tickets are general admission, $11 per person, with discounts for seniors, students and children.
This classic holiday tradition tells a powerful story of greed and redemption. On Christmas Eve, the miserly Ebenezer Scrooge must first face his dead partner Jacob Marley and then the spirits of Christmas Past, Present and Future.
McKinney Repertory Theatre is celebrating its FIFTEENTH season! Join the party and subscribe today!!!
Shows in the MRT 2017-2018 Season are:
Murder in the Magnolias
, Tim Kelly's hilarious spoof of southern murder mysteries.; Oct. 13-15 and 20-21, 2017
Charles Dickens' A Christmas Carol, the beloved and classic Christmas tale as adapted by McKinney's own Dr. Andrew Harris; Nov. 24-26 and Dec. 15-16, 2017
I Hate Hamlet
by Paul Rudnick; February 23-25 and March 2-3, 2018 John Patrick's
A Bad Year for Tomatoes
; May 11-13 and 18-19, 2018
The Face on the Barroom Floor
, a great melodrama by Tim Kelly, inspired by the H. Antoine D'Arcy poem and a popcorn-throwing good time for all ages; July 27-29, Aug. 3-5 and 10-11, 2018