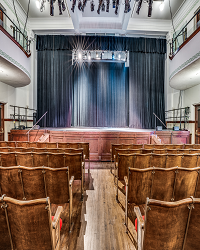 I Hate Hamlet
When
Runs from Friday February 23 2018 to Saturday March 3 2018
Approximate running time: 2 hours
Venue
Performance Notes
×
Tickets are general admission, $18 per person, with discounts for seniors 55 & up and students 13 & up.
A young and successful television actor relocates to New York, where he rents a marvelous, gothic apartment. With his television career in limbo, the actor is offered the opportunity to play Hamlet onstage, but there's one problem: He hates Hamlet. His dilemma deepens with the entrance of John Barrymore's ghost, who arrives intoxicated and in full costume to the apartment that once was his. The contrast between the two actors, the towering, dissipated Barrymore whose Hamlet was the greatest of his time, and Andrew Rally, hot young television star, leads to a wildly funny duel over women, art, success, duty, television, and the apartment.
McKinney Repertory Theatre is celebrating its FIFTEENTH season! Join the party and subscribe today!!!
Shows in the MRT 2017-2018 Season are:
Murder in the Magnolias
, Tim Kelly's hilarious spoof of southern murder mysteries.; Oct. 13-15 and 20-21, 2017 Charles Dickens'
A Christmas Carol
, the beloved and classic Christmas tale as adapted by McKinney's own Dr. Andrew Harris; Nov. 24-26 and Dec. 15-16, 2017
I Hate Hamlet by Paul Rudnick; February 23-25 and March 2-3, 2018
John Patrick's
A Bad Year for Tomatoes
; May 11-13 and 18-19, 2018
The Face on the Barroom Floor
, a great melodrama by Tim Kelly, inspired by the H. Antoine D'Arcy poem and a popcorn-throwing good time for all ages; July 27-29, Aug. 3-5 and 10-11, 2018