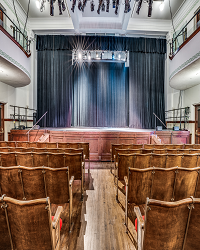 A Bad Year for Tomatoes
When
Runs from Friday May 11 2018 to Saturday May 19 2018
Approximate running time: 2 hours
Venue
Performance Notes
×
Tickets are general admission, $18 per person, with discounts for seniors 55 & up and students 13 & up.
Fed up with the pressures and demands of her acting career, the famous Myra Marlowe leases a house in the tiny New England hamlet of Beaver Haven and settles down to write her autobiography. She is successful in turning aside the offers pressed on her by her long-time agent, but dealing with her nosy, omnipresent neighbors is a different matter. In an attempt to shoo them away, and gain some privacy, Myra invents a mad, homicidal sister—who is kept locked in an upstairs room, but who occasionally escapes long enough to scare off uninvited visitors. The ruse works well, at first, but hilarious complications arise, including a handyman smitten with the imaginary sister, attempts to save the sister's soul, and a suspicion of murder!
McKinney Repertory Theatre is celebrating its FIFTEENTH season! Join the party and subscribe today!!!
Shows in the MRT 2017-2018 Season are:
Murder in the Magnolias
, Tim Kelly's hilarious spoof of southern murder mysteries.; Oct. 13-15 and 20-21, 2017 Charles Dickens'
A Christmas Carol
, the beloved and classic Christmas tale as adapted by McKinney's own Dr. Andrew Harris; Nov. 24-26 and Dec. 15-16, 2017
I Hate Hamlet
by Paul Rudnick; February 23-25 and March 2-3, 2018
John Patrick's A Bad Year for Tomatoes; May 11-13 and 18-19, 2018
The Face on the Barroom Floor
, a great melodrama by Tim Kelly, inspired by the H. Antoine D'Arcy poem and a popcorn-throwing good time for all ages; July 27-29, Aug. 3-5 and 10-11, 2018