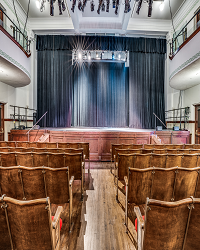 The Face on the Barroom Floor
When
Runs from Friday July 27 2018 to Saturday August 11 2018
Approximate running time: 2 hours
Venue
Performance Notes
×
Tickets are general admission, $18 per person, with discounts for seniors 55 & up, students 13 & up and children 12 & under.
Insidious villains endeavor to separate Madelaine Mockingbird, chambermaid turned singer, from the fortune left her by an old miner and from her true love: Jack "Toulouse" Goodhart, painter turned tramp. Heroines, villains, heroes and popcorn - fun for the whole family!
McKinney Repertory Theatre is celebrating its FIFTEENTH season! Join the party and subscribe today!!!
Shows in the MRT 2017-2018 Season are:
Murder in the Magnolias
, Tim Kelly's hilarious spoof of southern murder mysteries.; Oct. 13-15 and 20-21, 2017 Charles Dickens'
A Christmas Carol
, the beloved and classic Christmas tale as adapted by McKinney's own Dr. Andrew Harris; Nov. 24-26 and Dec. 15-16, 2017
I Hate Hamlet
by Paul Rudnick; February 23-25 and March 2-3, 2018 John Patrick's
A Bad Year for Tomatoes
; May 11-13 and 18-19, 2018
The Face on the Barroom Floor, a great melodrama by Tim Kelly, inspired by the H. Antoine D'Arcy poem and a popcorn-throwing good time for all ages; July 27-29, Aug. 3-5 and 10-11, 2018