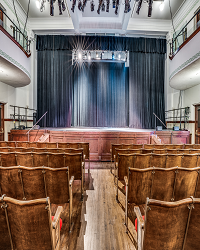 Angel Street
When
Runs from Friday October 5 2018 to Saturday October 13 2018
Approximate running time: 2 hours and 20 minutes
Venue
Performance Notes
×
Tickets are general admission, $20 per person, with discounts for seniors 55 & up, students 13 & up. Look in the descriptive text for information about age appropriateness and theme notes when purchasing for students.
The time is 19th Century London. The place is a house on Angel Street where Bella Manningham fears she's going insane just like her mother. But it is her husband who is slowly driving her mad by playing sinister tricks on her. Inspector Rough from Scotland Yard pays a surprise visit. He suspects Mr. Manningham may be guilty of a murder committed fifteen years ago in this very house. Bella and the Inspector plot to discover the truth in a story that contains some of the most brilliant, suspenseful sequences in modern theater.
Parents cautioned to be aware of the overarching theme of psychological torture when considering this production for early teen children.
McKinney Repertory Theatre is celebrating its SIXTEENTH season! Join the party and subscribe today!!!
Shows in the MRT 2018-2019 Season are:
Angel Street by Patrick Hamilton; Oct. 5-7 and 12-13, 2018
Charles Dickens'
A Christmas Carol
, the beloved and classic Christmas tale as adapted by McKinney's own Dr. Andrew Harris; Nov. 23-25 and Dec. 14-15, 2018
Dirty Rotten Scoundrels
by David Yazbek & Jeffrey Lane; February 22-24 and March 1-2, 2019 Agatha Christie's
The Mousetrap
; May 10-12 and 17-18, 2019 Our annual popcorn-throwing good time for all ages melodrama
The Man in the Locket
by Kris Thompson; Aug. 2-4, 9-11 and 16-17, 2019