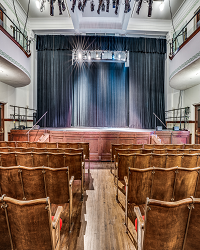 Dirty Rotten Scoundrels
When
Runs from Thursday February 21 2019 to Saturday March 2 2019
Approximate running time: 2 hours
Venue
Performance Notes
×
Tickets are general admission, $20 per person, with discounts for seniors 55 & up and students 13 & up. Look in the descriptive text for information about age appropriateness and theme notes when purchasing for students.
Based on the 1988 movie, but now a musical! Lawrence Jameson works the French Riviera and makes his living by talking rich women out of their money. Freddy Benson is also a swindler preying on sympathetic women with stories about his grandmother's failing health. The two men meet on a train and attempt to work together only to realize there is only room for one of them to operate in such a small town, so they make a bet to see who can extract $50,000 from a young heiress. The loser has to leave town. A hilarious battle of cons ensues.
Note: This play is not appropriate for children. There are scenes that contain strong language, suggestive dialogue and sexual innuendos, which may be inappropriate for young children/early teens.
McKinney Repertory Theatre is celebrating its SIXTEENTH season! Join the party and subscribe today!!!
Shows in the MRT 2018-2019 Season are:
Angel Street
by Patrick Hamilton; Oct. 5-7 and 12-13, 2018 Charles Dickens'
A Christmas Carol
, the beloved and classic Christmas tale as adapted by McKinney's own Dr. Andrew Harris; Nov. 23-25 and Dec. 14-15, 2018
Dirty Rotten Scoundrels by David Yazbek & Jeffrey Lane; February 22-24 and March 1-2, 2019
Agatha Christie's
The Mousetrap
; May 10-12 and 17-18, 2019 Our annual popcorn-throwing good time for all ages melodrama
The Man in the Locket
by Kris Thompson; Aug. 2-4, 9-11 and 16-17, 2019