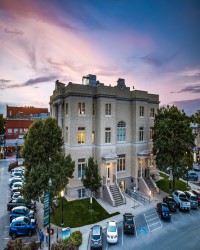 Four Funny Females
When
Runs from Saturday January 26 2019 to Saturday March 9 2019
Approximate running time: 1 hour and 30 minutes
Venue
Event Notes
×
Tickets are general admission, $22.00 per person.
Since 2006, Four Funny Females, Dallas' only award winning, all-female stand-up comedy show has consistently been one of the McKinney Performing Arts Centers' most popular and requested programs. The secret is out! Four Funny Females is more than a hilarious stand-up comedy show...it's a sisterhood on a mission to get women laughing again; women who wouldn't ordinarily step foot in a traditional comedy club. Every year they attract new audiences from across the state of Texas in large part because they aim not offend but rather make the themselves and the world around them a little better. Over the past 12+ years, Four Funny Female has garnered local, regional and national buzz including but not limited to Dallas Morning News, Dallas Observer, Texas Monthly, CNN, and the NY Times. ***Rated PG13 for adult innuendo & observational comedy
Here's what people are saying about Four Funny Females:
"Ms. Stogner jokes about being adopted, and Ms Bartlett injects humor into her bout with cancer." THE NEW YORK TIMES
"The four comedians' humor, however, is very accessible to men and women...." DALLAS OBSERVER
"Best of the weekend" DALLAS GUIDE LIVE
"Fastest Rising Franchise" THEATER JONES
"Top 3 Events" PLANO PROFILE
"It's fairly rare that a group of women says "Hey, let's go to a stand-up comedy show." Just how many jokes about ugly women do you want to hear? Or sit through yet more stories of henpecked husbands or getting your date drunk to get laid? If you deal with screaming kids all day, do you really want to hear overgrown ones yell on stage at night? And how many times can you hear the F-word before it ceases to be funny?"
"So no wonder that the Four Funny Females stand-up show sells out wherever it goes. (The recently reviewed song-and-sketch show, Women Fully Clothed, is much the same.) Women need to laugh and are starved for opportunities that aren't laced with misogynist pitfalls."
"But here's the twist: Once men have daughters, nieces and the like, they're looking for such opportunities, too. At the final show of Four Funny Females fifth season in McKinney last Saturday, the two fellows sitting on either side of me laughed often and heartily. Even at the jokes about dud dates and disengaged dads—because the women made fun of themselves and their gender just as much." THEATER JONES, COMEDY REVIEW, 2012
*** Cash bar with beer, wine, soda and water available, courtesy of Square Burger.
Click
HERE
to visit the Four Funny Females website.