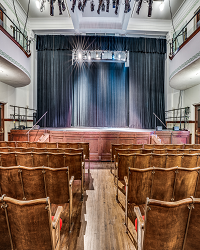 All-Star Christmas
When
Occurs on Friday December 6 2019
Approximate running time: 1 hour and 30 minutes
Venue
Performance Notes
×
Tickets are reserved seating, $22 for adults, $17 for seniors 65 & over and children/students age 6-22. Please use the drop-down menu to select discounts applicable to your party after choosing the total number of tickets you need.
This concert is one of a kind. Like no other Christmas shows, this is a true collaboration of DFW's most talented musicians, maestro Jason Lim and the Odysseus Chamber Orchestra. Joining the Odysseus Chamber Orchestra are, William Foley piano trio, Jason Davis on Saxophone, Candace Miller, Keyreel Raskolenko on violin and Ben Katzen on cello.
The orchestra will also feature special guest stars Maylee Thomas, Mayor George Fuller, Andy Timmons and the Maylee Thomas Band.
Come hear original arrangements of the Christmas songs you know and love performed by the award winning Odysseus Chamber Orchestra and a cast of all star jazz performers from around the world.
featuring: Jason Davis, Saxophone Candace Mahogany Miller, Vocals Robin Hackett, Vocals Keyreel Raskolenko, Violin Ben Katzen, Cello and The William Foley Trio