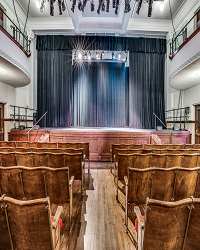 Let's Murder Marsha
When
Runs from Thursday February 27 2020 to Saturday March 7 2020
Approximate running time: 2 hours and 30 minutes
Venue
Performance Notes
×
Tickets are general admission. $20 for adults $17 for seniors 55+ and students 13+ $15 for children 12 & under Please look in the descriptive text for information about age appropriateness and theme notes when purchasing for students/children. Please select the total number of tickets needed when ordering online, then select the appropriate ticket for each person in your party on the following screen. Call the Emerson Ticket Office, 214-544-4630, for group discount information.
A happy housewife named Marsha, hopelessly addicted to reading murder mysteries, overhears her loving husband discussing her upcoming birthday surprise with an interior decorator. To her ears, though, it sounds like they are planning to murder her! With the assistance of her next-door neighbor, she tries to turn the tables on them with a poisoned potion. When her own mother shows up for her birthday a day early, Marsha thinks she is in on the diabolical scheme. When her maid's date, a policeman, shows up to take the maid out, Marsha think he is on to her poisoning attempt. Well, finally, just when you would think all this would be cleared up, Marsha's intended victims discover what she has supposed, and decide to teach her a lesson by actually pretending to be murderers. This is a terrific show for family audiences who like their comedy broad, fast, and nonstop.
McKinney Repertory Theatre is celebrating its SEVENTEENTH season! Join the party and subscribe today!!!
Shows in the MRT 2019-2020 Season are:
Drinking Habits
by Tom Smith; Oct. 4-5 and 11-12, 2019 Charles Dickens'
A Christmas Carol
, the beloved and classic Christmas tale as adapted by McKinney's own Dr. Andrew Harris; Nov. 29-Dec. 1 and Dec. 13-14, 2019
Let's Murder Marsha by Monk Ferris; February 28-29 and March 6-7, 2020
Jones, Hope & Wooten's
The Savannah Sipping Society
; May 8-9 and 15-16, 2020 Our annual popcorn-throwing good time for all ages melodrama
Much Ado Out West
by Wade Bradford; July 31-Aug. 1, Aug. 7-8 and 14-15, 2020