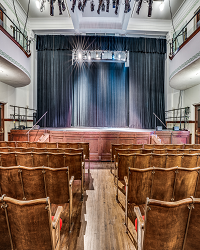 The Savannah Sipping Society
When
Runs from Thursday May 7 2020 to Saturday May 16 2020
Approximate running time: 2 hours and 30 minutes
Venue
Performance Notes
×
Tickets are general admission. $20 for adults $17 for seniors 55+ and students 13+ $15 for children 12 & under Please look in the descriptive text for information about age appropriateness and theme notes when purchasing for students/children. Please select the total number of tickets needed when ordering online, then select the appropriate ticket for each person in your party on the following screen. Call the Emerson Ticket Office, 214-544-4630, for group discount information.
Four Southern women needing to escape their day-to-day routines are drawn together by an impromptu happy hour. They decide to reclaim the enthusiasm for life they've lost through the years. They hire a much-needed life coach. Over the course of six months, filled with laughter, hilarious misadventures, and the occasional liquid refreshment, these middle-aged women successfully bond and find the confidence to jumpstart their new lives. Together, they discover lasting friendships and a renewed determination to live in the moment—and most importantly, realize it's never too late to make new old friends.
McKinney Repertory Theatre is celebrating its SEVENTEENTH season! Join the party and subscribe today!!!
Shows in the MRT 2019-2020 Season are:
Drinking Habits
by Tom Smith; Oct. 4-5 and 11-12, 2019 Charles Dickens'
A Christmas Carol
, the beloved and classic Christmas tale as adapted by McKinney's own Dr. Andrew Harris; Nov. 29-Dec. 1 and Dec. 13-14, 2019
Let's Murder Marsha
by Monk Ferris; February 28-29 and March 6-7, 2020
Jones, Hope & Wooten's The Savannah Sipping Society; May 8-9 and 15-16, 2020
Our annual popcorn-throwing good time for all ages melodrama
Much Ado Out West
by Wade Bradford; July 31-Aug. 1, Aug. 7-8 and 14-15, 2020