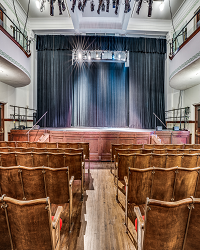 Much Ado Out West
When
Runs from Thursday July 30 2020 to Sunday August 16 2020
Approximate running time: 2 hours
Venue
Event Notes
×
Tickets are general admission. $20 for adults $17 for seniors 55+ and students 13+ $15 for children 12 & under Please look in the descriptive text for information about age appropriateness and theme notes when purchasing for students/children. Please select the total number of tickets needed when ordering online, then select the appropriate ticket for each person in your party on the following screen. Call the Emerson Ticket Office, 214-544-4630, for group discount information.
Annual Melodrama - Pedro, Ben and Claude discover that while they've been away at the Civil War, Betty and the other womenfolk have been doing all of the roping and ranching. Despite how much the cowpokes and the ladies of the ranch taunt each other, love seems to be in the air. Claude falls head over heels in love with Winny, a lovely Southern belle, but Calamity Jane, a rambunctious tomboy, secretly longs for Claude's affections and is bent on stirring up a big bowl of trouble when she doesn't get her way. Meanwhile, Ben and Betty are arch-rivals, only happy when they are insulting each other...or is it just their way of masking their deeply guarded feelings for one another? This Western romp is inspired from Shakespeare's hilarious battle-of-the-sexes romantic comedy, "Much Ado About Nothing."
McKinney Repertory Theatre is celebrating its SEVENTEENTH season! Join the party and subscribe today!!!
Shows in the MRT 2019-2020 Season are:
Drinking Habits
by Tom Smith; Oct. 4-5 and 11-12, 2019 Charles Dickens'
A Christmas Carol
, the beloved and classic Christmas tale as adapted by McKinney's own Dr. Andrew Harris; Nov. 29-Dec. 1 and Dec. 13-14, 2019
Let's Murder Marsha
by Monk Ferris; February 28-29 and March 6-7, 2020 Jones, Hope & Wooten's
The Savannah Sipping Society
; May 8-9 and 15-16, 2020
Our annual popcorn-throwing good time for all ages melodrama Much Ado Out West by Wade Bradford; July 31-Aug. 1, Aug. 7-8 and 14-15, 2020