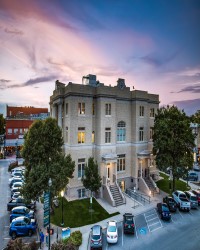 Four Funny Females
When
Runs from Saturday January 25 2020 to Saturday February 1 2020
Approximate running time: 1 hour and 30 minutes
Venue
Event Notes
×
Tickets are general admission, $22.00 per person.
AKA: The Ultimate Girls Night Out....(but the guys love it, too!), Four Funny Females returns for the 14th year as one of MPAC's most popular and requested programs!
Local Profile, 2018 Women's Edition, declares "Four Funny Females is a Dallas-favorite comedy troupe. These four creative, humorous ladies, Laura Bartlett, Jan Norton, Sherry Belle, and Linda Stogner, have defied the norms for women in entertainment."
Lauded "FASTEST RISING FRANCHISE" 2013 End of Comedy Review, Theater Jones, and 2011 & 2014 DALLAS A-LIST WINNER "Best Theater Group" , Four Funny Females is a 90 minute clean stand-up comedy show (PG13) starring Linda Stogner, 2014 Winner, FUNNIEST COMIC IN TEXAS, and fellow comedians Laura Bartlett, Sherry Belle and Jan Norton.
FOUR FUNNY FEMALES has received wide acclaim and media coverage including but not limited to New York Times, CNN, ABC, CBS, Dallas Observer, Dallas Morning News, Plano Profile, WFAA "Good Morning Texas," TX21 "Buzzed into DFW," KLAK 97.5FM QUICK," McKinney Courier Gazette, IMPACT, Bubble Life, and Dallas Child.
Four Funny Females isn't designed to shock or offend, but leave audiences feeling better about themselves and the world around them. According to Bartlett, comedian and the shows Executive Producer, "Four Funny Females began as a grassroots movement to get women laughing again...A sort of Ya Ya sisterhood for women who would ordinary never step foot in a comedy club."
LAUGH YOUR SPANX OFF! Four women-- A self proclaimed Geek, a Southern Belle, a brash blonde and a wacky brunette -- walk into a theater ... Sounds like a joke, right? It isn't! The theater in question is the McKinney Performing Arts Center and the women are four of Texas' finest female stand-up comedians. For one night only, these Four Funny Females will bring their own unique brands of talk to North Texas, and the joke's on you if you miss it. There's something for everyone at Laura Bartlett's Four Funny Females because these ladies are as diverse as they are devastatingly hilarious. Theater-Geek Jan Norton entertains with stories about what it's like to be a single mature woman dating online, Sherry Belle's got saccharin-sweet southern snark and while it took Laura Bartlett 36 years of living before she started in stand-up comedy, she's all the funnier for it. Top that off with headliner Linda Stogner, an Emmy award-winning writer and producer in her own right, who always leaves 'em speechless with her off-the-wall blend of observational comedy and personal stories about anything and everything from talking squirrels to hermits--yeah, you've gotta see it to believe it.
*** Cash bar with beer, wine, soda and water available, courtesy of Square Burger.
Click
HERE
to visit the Four Funny Females website.