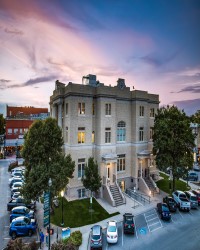 Clues
When
Runs from Thursday April 2 2020 to Saturday July 11 2020
Approximate running time: 2 hours
Venue
Event Notes
×
Tickets are general admission, $7.00 per person.
Thirteen strangers meet for a dinner party at a mysterious mansion. The problem? The host is murdered. The catch? Everyone is a suspect! Set in the 1950's, CLUES is a comical farce that spoofs all of the classic murder mystery movies. Naturally, the story begins in a large manor where the eccentric billionaire, Mr. Bigbucks, is suddenly murdered! As the guests scramble around to find out whodunnit, hijinks and shenanigans abound. With a secret room, a dance party, and a masked jewel thief on the loose, it's no wonder these dinner guests can't get a clue. Luckily, Detective Harvey solves the case through three jaw-dropping, twist endings.
Click
HERE
to visit the Frisco H.I.S. (Home is School) website.