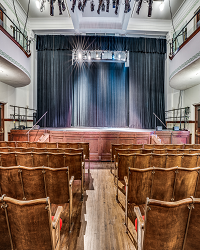 Carrie: The Musical
When
Runs from Thursday January 28 2021 to Saturday January 30 2021
Approximate running time: 2 hours
Venue
Event Notes
×
Tickets are reserved seating, $17.00 for adults and $13 for children/students age 13-18 and seniors age 55+. Social distancing measures will be in effect and masks will be required for all attendees while inside the McKinney Performing Arts Center. Masks must be worn not only for admission, but through the duration of the performance and while traversing stairways, hallways and common areas. Timed admission by zone will also be in effect, more information will be sent out and posted prior to the show date.
This production has a PG-13 rating: Parents Strongly Cautioned, Some Material May Be Inappropriate for Children Under 13. This rating is a stronger caution for parents that content included may not be appropriate for children under 13. Strong language, sexual innuendo and violence.
Carrie White is a teenage outcast who longs to fit in. At school, she's bullied by the popular crowd, and virtually invisible to everyone else. At home, she's dominated by her loving but cruelly controlling mother. What none of them know is that Carrie's just discovered she's got a special power, and if pushed too far, she's not afraid to use it.
Presented by the
Ovation Academy of Performing Arts
and funded in part by the
McKinney Arts Commission
.