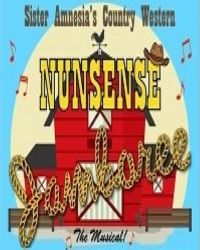 Sister Amnesia's Country Western Nunsense Jamboree
When
Runs from Friday July 30 2021 to Saturday August 14 2021
Approximate running time: 2 hours
Venue
Event Notes
×
Tickets are general admission - $25 for adults  $22 for seniors 55+  $20 for children/students age 4-18
Please look in each production's description for information about age appropriateness and theme notes when purchasing for students/children.
When ordering online, select the total number of tickets needed first; you can select the discount needed for each person in your party on the following screen.
Call the Emerson Ticket Office, 214-544-4630, for group discount information.
In NUNSENSE, Sister Mary Amnesia (so-called because a crucifix had fallen on her head and she couldn't remember who she was) finally realized that she was Sister Mary Paul, a nun who had always wanted to be a country singer. In NUNSENSE II: THE SEQUEL, Reverend Mother secured a recording contract for Sister Mary Paul (still affectionately known as Amnesia). Now, in NUNSENSE JAMBOREE (officially titled SISTER AMNESIA'S COUNTRY WESTERN NUNSENSE JAMBOREE) Sister Amnesia has made her first album and is on a tour promoting her new recording. She is touring with Sister Robert Anne, Sister Mary Leo, and two new friends: Father Virgil Trott (Sister Mary Leo's brother, a Franciscan priest with his own country radio show), and Sister Mary Wilhelm, the Superintendent of Nursing. (Reverend Mother and Sister Mary Hubert are back at the convent.) Rated G - Great for all Ages!
McKinney Repertory Theatre is celebrating this return to the stage and looking forward to seeing YOU at the theatre for this production and many more to come!
EMAIL US for more information on their upcoming NINETEENTH season!
Shows in the MRT 2021-2022 Season are:
Arsenic & Old Lace
by Joseph Kesselring; Oct. 8-9 and 15-16, 2021
Charles Dickens'
A Christmas Carol
, the beloved and classic Christmas tale as adapted by McKinney's own Dr. Andrew Harris; Nov. 26-27 and Dec. 10-11, 2021
The Farndale Avenue Estate Townswomen's Guild Murder Mystery
by David McGillivray; February 25-26 and March 4-5, 2022
Jones, Hope & Wooten's
Savannah Sipping Society
; May 6-7 and 13-14, 2022
Our annual popcorn-throwing good time for all ages melodrama
Much Ado Out West
by Wade Bradford; July 29-30, Aug. 5-6 and 12-13, 2022