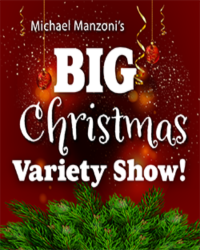 Michael Manzoni's BIG Christmas Variety Show
When
Occurs on Saturday December 18 2021
Approximate running time: 1 hour and 30 minutes
Venue
Event Notes
×
Tickets are general admission, $25 per person. Please choose the drop-down menu for each ticket to indicate accessible seating needs for any member of your party.
Remember watching those great TV Christmas specials with superstars like Dean Martin, Bing Crosby, and Frank Sinatra? Remember the singing, the dancing, the fun, those family-friendly comedy skits? Get ready to celebrate all the holiday excitement of days gone by as Michael Manzoni brings his BIG Christmas Variety Show to the McKinney Performing Arts Center Courtroom Theater on Saturday, December 18th, 2021. Showcasing the BIG sounds of his All Jazz Band, Michael and his special guests will sing and dance to all your holiday favorites! And kids...Santa himself may stop by for a visit!
All proceeds from ticket sales will benefit Hugs Café, a non-profit social enterprise in McKinney, Texas. Hugs' mission is to provide meaningful training and employment to adults with intellectual and developmental disabilities.