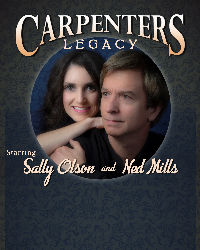 Carpenters Legacy
When
Occurs on Friday February 18 2022
Approximate running time: 2 hours
Venue
Event Notes
×
Tickets are reserved seating, $38 per person.
Direct from Las Vegas, 'Carpenters Legacy: A Re-creation' of the 1976 UK Tour is the definitive show celebrating the music and legacy of the famed brother-sister duo. Starring Sally Olson as Karen Carpenter and Ned Mills as Richard Carpenter, the show is a re-creation of the 1976 UK tour, featuring hits including "We've Only Just Begun", "Yesterday Once More", "Superstar", Karen's drum solo, Richard's classical piano feature, a Spike Jones parody of "Close To You", comedy antics and much more. The show opens with a zesty tribute to Herb Alpert & The Tijuana Brass.
Randy Schmidt, author of Little Girl Blue: The Life of Karen Carpenter, says "Sally's tribute to Karen Carpenter is heartfelt and honest" and John Katsilometes of Las Vegas Review-Journal has lauded the show as "musically sound, vocally spot-on, and will please any fans of the duo." Sam Novak of Vegas Unfiltered says, "Sally Olson and Ned Mills perfectly embody Karen and Richard Carpenter. 'Carpenters Legacy' is nothing short of astounding." David Halston of Tribute Masters says, "Sally is remarkable, spot-on, and delightfully entertaining." Sally is truly unsurpassed in her startling representation of Karen Carpenter, including authentic hairstyles, vintage costumes, gestures, and stunning voice.
'Carpenters Legacy' was featured at the Carpenters 50th Anniversary Celebration in Thousand Oaks, California in April 2019. Olson is the first-ever and only Karen Carpenter tribute artist to perform with the world-renowned Las Vegas based review Legends In Concert. The show has been nominated in five entertainment categories for the 2021 Best of Las Vegas/Las Vegas Review-Journal awards. 'Carpenters Legacy: A Re-creation of the 1976 UK Tour' features a powerful live performance, historical commentary, lovely arrangements and video, taking audiences on an incredible journey down memory lane into the world of the Carpenters – the world's ONLY authentic Carpenters tribute in sight and sound.