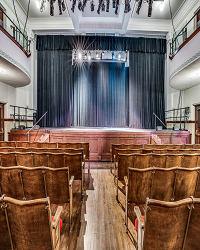 Bluegrass Saturday Night
When
Occurs on Saturday November 5 2022
Approximate running time: 2 hours and 15 minutes
Venue
Event Notes
×
Tickets are reserved seating.
$28.50 for Main Floor
$24.50 for Balcony

Join us for a night of incredible music with national award-winning band Sideline along with special guests Kristyn Harris & Hailey Sandoz!
Sideline was started in 2012 as a "jam band" by a group of professional musicians who all played in other bands and were great friends. After a few shows, they discovered their own identity and style and decided to make a full-time commitment to the group. In just under a decade, Sideline has achieved an impressive list of musical accolades. Their 2018 hit song "Thunder Dan" held the #1 spot on the charts for several weeks and won the 2019 International Bluegrass Music Association Song of the Year Award, and more chart-topping songs have followed.
Sideline founding members Steve Dilling and Skip Cherryholmes are joined by Jamie Harper, Nick Goad, Andy Buckner, and Kyle Windbeck. Each has a commitment to working together to deliver high-energy, innovative, variety-packed entertainment night after night. They are always seeking new breakthroughs while holding fast to the core of their success - a true love and passion for the music they create.
Sideline will be joined by the energetic and entertaining western-music duo of Kristyn Harris & Hailey Sandoz! American Idol contestant Kristyn Harris is the five-time reigning International Western Music Association Female Performer of the Year and Hailey Sandoz is the reigning International Western Music Association Instrumental Performer of the Year. This is a show you don't want to miss!
Presented by the
Bluegrass Heritage Foundation
and funded in part by the
McKinney Arts Commission
.