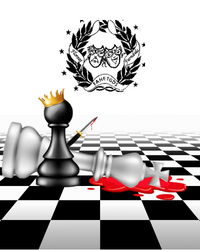 The Farndale Avenue Estate Townswomen's Guild Murder Mystery
When
Runs from Friday February 24 2023 to Sunday March 5 2023
Approximate running time: 2 hours
Venue
Event Notes
×
Tickets are general admission.
$22 for adults  $19 for seniors 55+  $17 for children/students age 4-18
Please look in each production's description for information about age appropriateness and theme notes when purchasing for children or students.
When ordering online, select the total number of tickets needed first; you can select the discount needed for each person in your party on the following screen.
Call the Emerson Ticket Office, 214-544-4630, for group discount information.
Every drama group has experienced the horrors of what can go wrong on opening night, and the ladies of the F.A.H.E.T.G. Dramatic Society are no different, with the possible exception that almost everything that could happen does! The scenery collapses, cues are missed, lines forgotten, and the sound effects take on a strange note at times, as the ladies present their ambitious evening's entertainment with the cunning whodunit, "Murder at Checkmate Manor." The crunch comes in the denouement when the "murderer", about to be revealed, has to rush home to bandage up an injured daughter. See how they rise above the outrageous dramatics to save the situation and provide the final inventive twist.
McKinney Repertory Theatre is celebrating its TWENTIETH season! Join the party and subscribe today!!!
Shows in the MRT 2022-2023 Season are:
Bram Stoker's Dracula
by Hamilton Deane & John l. Balderston; Oct. 8-9 and 14-165, 2022
Charles Dickens'
A Christmas Carol
, the beloved and classic Christmas tale as adapted by McKinney's own Dr. Andrew Harris; Nov. 25-26 and Dec. 9-10, 2022
The Farndale Avenue Estate Townswomen's Guild Murder Mystery by David McGillivray; February 24-25 and March 3-4, 2023
Neil Simon's
Rumors
; May 5-6 and 12-13, 2023
Agatha Christie's
Murder on the Orient Express
by Ken Ludwig; July 28-29, Aug. 4-5 and 11-12, 2023