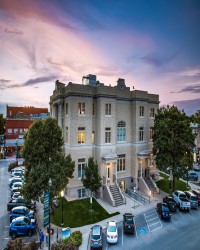 The Belle of West Texas
When
Runs from Friday August 1 2014 to Sunday August 10 2014
Approximate running time: 2 hours
Venue
Event Notes
×
Tickets are general admission, $17 per person, with discounts for seniors, students and children.
Join us for the fun and laughter of a melodrama. Ooh & aah the heroine. Boo & throw popcorn at the villain. Cheer for the hero. MPAC's Mighty Wurlitzer Theater Pipe Organ provides spirited accompaniment to family-friendly fun for all ages.
Lizzie Holiday's hotel is not doing well an she is nearly broke. She wants to retire but not until her daughter Belle is married. Enter Gerald Snively, our villain, who overhears Lawyer Otis Pitts telling Lizzie some news about her husband's will. Before he can reveal to her that she's actually a wealthy woman, he has a heart attack and dies. Snively finds out and decides to woo Belle to get his hands on the money. Belle, however, is in love with Eddie Allswell, and unsuccessful oil man, who in turn is seduced by Snively's sexy sidekick, leaving Belle stunned and agreeing to marry Snively. Of course, "All's Well with Oil Wells" and ends with an (almost) wedding, a fight, and a happily ever after.
McKinney Repertory Theatre is celebrating its ELEVENTH season! Join the party and subscribe today!!!
Shows in the MRT 2013-2014 Season are:
The (Female) Odd Couple
, by Neil Simon; Oct. 4-5 and Oct. 11-13, 2013 Charles Dickens'
A Christmas Carol
, the beloved and classic Christmas tale; Nov. 29-30 and Dec. 6-8, 2013
World Wide Widow
, written by Chuck Costanzo - winner of MRT's Third Annual New Play Competition; March 7-8 and 14-16, 2014 Mark Dunn's dramatic comedy
Five Tellers Dancing in the Rain
; May 9-10 and 16-18, 2014
Annual Melodrama, Title TBD, great for all ages; Aug. 1-2 and 8-10, 2014