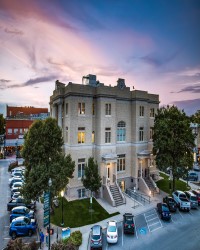 Oliver Twist
When
Occurs on Saturday January 10 2015
Approximate running time: 2 hours and 30 minutes
Venue
Event Notes
×
Advance tickets are $12 for adults and $5 for children age 12 & under, free for seniors age 65 and over. Tickets purchased on the day of the performance will be $14 and $7, respectively.
Oliver's mother, a penniless outcast, died giving birth to him. As a young boy Oliver is brought up in a workhouse, later apprenticed to an uncaring undertaker, and eventually is taken in by a gang of thieves who befriend him for their own purposes. All the while, there are secrets from Oliver's family history waiting to come to light.
A matchless cast of screen celebrities support Jackie Coogan in this, his finest achievement.
Click
HERE
to visit the North Texas Chapter of the American Theatre Organ Society website.