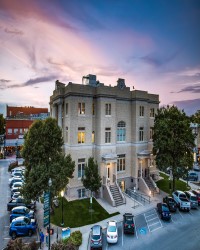 Highland Dancing
When
Runs from Tuesday September 8 2015 to Tuesday June 28 2016
Approximate running time: 1 hour
Venue
Performance Notes
×
Scottish Highland Dancing for fun and fitness!
Highland Dancing is native to Scotland. It is a vigourous form of dance requiring great strength and agility. This will be an introductory class focusing on basic dance techniques. Students will learn the Highland Fling, the Sword Dance, and other traditional dances as they progress. Previous dance experience is not required but would be helpful.
Students already familiar with Highland Dancing will have the opportunity to learn new steps and dances. More experiences students will have the opportunity to take exams, and compete at Highland Gatherings.
Supplies needed: Scottish dance pumps (gillies) or ballet shoes.
Dress attire: black leotard, knee-high white socks, black or tartan skirt or shorts.
Level One will meet Tuesdays 4-5pm, Level TWO will meet Tuesdays from 5-6:15.