Murder's in the Heir Friday, April 28, 2023 at 7:30 PM CDT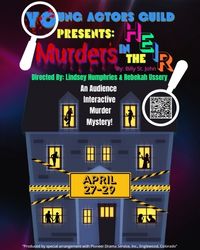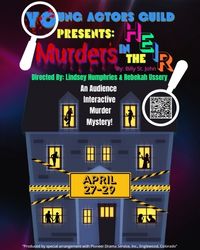 You've selected
Friday, April 28, 2023 at 7:30 PM CDT
Change Date
×
Tickets are general admission. $12 for adults   $8 for seniors 55+ and students/children 4-18   $6 for YAG members in good standing Please select the total number of tickets needed when ordering online, then select the appropriate ticket for each person in your party on the following screen.
Turn the game of Clue into a play and you have the masterfully entertaining 'Murder's in the Heir!' Almost every character in this hilarious "Whodunit" mystery has the weapon, opportunity, and motive to commit the unseen murder. And it's up to our audience to decide who actually did it!
Each of the heirs to the tyrannical billionaire Simon Starkweather has the means and the motive to do away with him. Starkweather gathers his family and employees to announce the contents of his will. His lawyer, Lois van Zandt, reveals that he has bequeathed vast fortunes to his befuddled niece Fiona, her playboy son Jordan, his great-niece Paula (a Southern belle) and his grandson Simon III, as well as to his many servants. Then Lois delivers the bombshell! Within hours this will becomes invalid.
Of course, the rejected heirs are not pleased, so it's not surprising when they roam the old mansion carrying such items as an ax, a gun, and poison. Predictably, the lights go out, and Simon is discovered murdered.
The play's unique ending, utilizing secret ballots gathered at intermission from the audience, determines the killer in this Billy St. John maze of murder.
Fun for all ages!
The MRT Young Actors Guild is supported in part by a grant from the
McKinney Arts Commission
.
Venue
Courtroom Theater - General Admission (136)
111 N. Tennessee Street
McKinney TX 75069
Performance Notes
Join us for this Clue"esque" whodunit where YOU, the audience, must decide who the killer is.
Directed by Rebekah Ussery and Lindsey Humphries
Presented by
MRT Young Actors Guild
with funding support from the
McKinney Arts Commission
The McKinney Performing Arts Center is a public facility with multiple events and public restrooms, we recommend you consult masking and public health recommendations from the Centers for Disease Control
×
This is a general admission performance - the seats are on a first come, first serve basis when you arrive at the venue.
Doors open 1/2 hour prior to start of performance.